Turkey is a great protein source. Your body uses protein to build and maintain things like bones, muscles, skin, and blood. Turkey has niacin, vitamin B6, tryptophan, and lots of protein. It also has zinc and vitamin B12. The white meat, without the skin, is low in fat and has lots of protein. It also has vitamin B6 and niacin, which help your body make energy from food. Niacin is important for changing proteins, fats, and carbs into energy your body can use.
Rosemary Roasted Turkey
Preparation Time: 15 minutes
Cooking Time: 4 hours
Servings: 16 Serving Size: 325 grams
This recipe ensures your turkey is both tasty and juicy. Pick a turkey that matches the number of guests you're serving. The nutritional values for this food are as follows: it contains 508 kilocalories, 58.7 grams of protein, 25.8 grams of fat, and 1 gram of carbohydrates.
Ingredients
¼ cup olive oil
3 tablespoons minced garlic
2 tablespoons chopped fresh rosemary
1 tablespoon chopped fresh basil
1 tablespoon Italian seasoning
1 teaspoon ground black pepper
salt to taste
1 (12-pound) whole turkey
Instructions
1. Preheat the oven to 325 degrees Fahrenheit (165 degrees Celsius).
2. Add olive oil, garlic, rosemary, basil, Italian seasoning, black pepper, and salt in a small bowl. Set aside.
3. Wash and dry the turkey both inside and out, removing any excess fat. Gently loosen the skin on the breast by sliding your fingertips between the skin and the breast, being careful not to tear it. Work the skin down to the end of the drumstick.
4. Spread the rosemary mixture under the breast flesh and down the thigh and leg. Coat the outside of the breast with the remaining rosemary mixture, using toothpicks to seal the skin over any exposed breast meat.
5. Place the turkey on a rack in a roasting pan. Add about 1/4 inch of water to the bottom of the pan.
6. Roast the turkey in a preheated oven for 3 to 4 hours or until it reaches an internal temperature of 180 degrees Fahrenheit (80 degrees Celsius).
Herb and Citrus Butter Roasted Turkey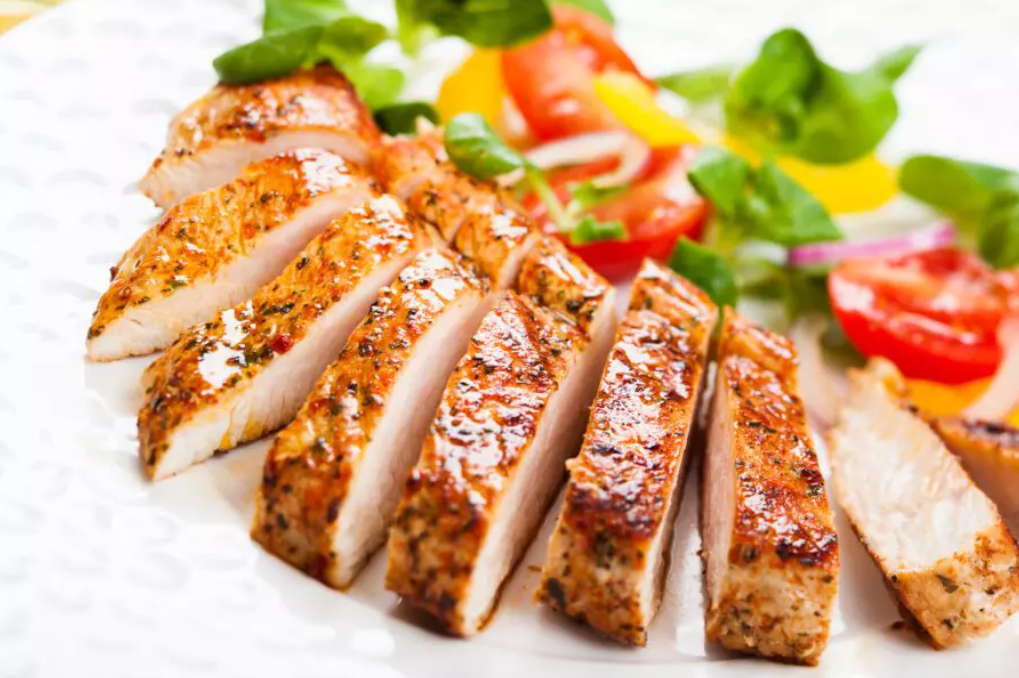 Preparation Time: 15 minutes
Cooking Time: 4 hours
Servings: 12 Serving Size: 125 grams
You can easily and enjoyably make a delicious whole-roasted turkey with herb citrus butter. Seasonal vegetables accompany the meal and features a flavorful lemon and herb butter. Each serving provides 698 calories, with 78.8 grams of protein, 33.1 grams of fat, and 4.7 grams of carbohydrates.
Ingredients
1 lemon
2 tablespoons butter
1/2 shallot
8 large sage leaves
2 tbsp. fresh thyme leaves
1 tbsp. rosemary leaves
1 clove garlic
1 fresh whole turkey
1 medium onion
2 carrots
2 celery ribs
1 cup dry white wine
1 cup low-sodium turkey or chicken broth
1/4 cup almond flour
Instructions
1. To make the herb butter, put 3 tablespoons of lemon juice and zest in a food processor with the other 5 ingredients, making sure the herbs are finely chopped and the mixture is smooth.
2. Set aside 1/4 cup of the herb butter. Preheat the oven to 425°F. Remove and discard the turkey's neck and giblets, fill the cavity with water, and drain it.
3. Carefully lift and loosen the skin from the turkey breast without completely separating it. Spread 3 tablespoons of herb butter under the skin, secure it back, and use wooden picks to hold it if needed.
4. Season the inside and outside of the turkey with salt and pepper. Place the onion, carrot, and celery in a large roasting pan.
5. Put the turkey on a lightly oiled roasting rack in the pan. Tie the ends of the legs together with kitchen twine and tuck the wingtips underneath.
6. Use the remaining herb butter to coat the entire turkey. Pour wine and chicken broth into the roasting pan.
7. Roast on the bottom oven rack at 425°F for 30 minutes, then reduce the heat to 325°F and cook for 2 to 2.5 hours, basting with pan juices every 30 minutes, until a meat thermometer inserted into the thickest part of the thigh reads 165°F.
8. Cover it with aluminum foil When it starts to brown too much. Take it out of the oven and let it rest for 20 minutes. Transfer the turkey to a serving dish and strain the drippings through a fine wire mesh strainer into a container, discarding any solids.
9. Reserve 2 1/2 cups of the pan drippings. In a skillet over medium heat, melt the reserved herb butter. Whisk in the flour and cook for 1 to 2 minutes while constantly whisking.
10. Gradually add the 2 1/2 cups of reserved drippings to the skillet, stirring continuously, until it comes to a boil. Reduce the heat and simmer for five minutes, stirring occasionally, until it thickens. Serve the gravy with the turkey.
Cranberry Stuffed Turkey Breasts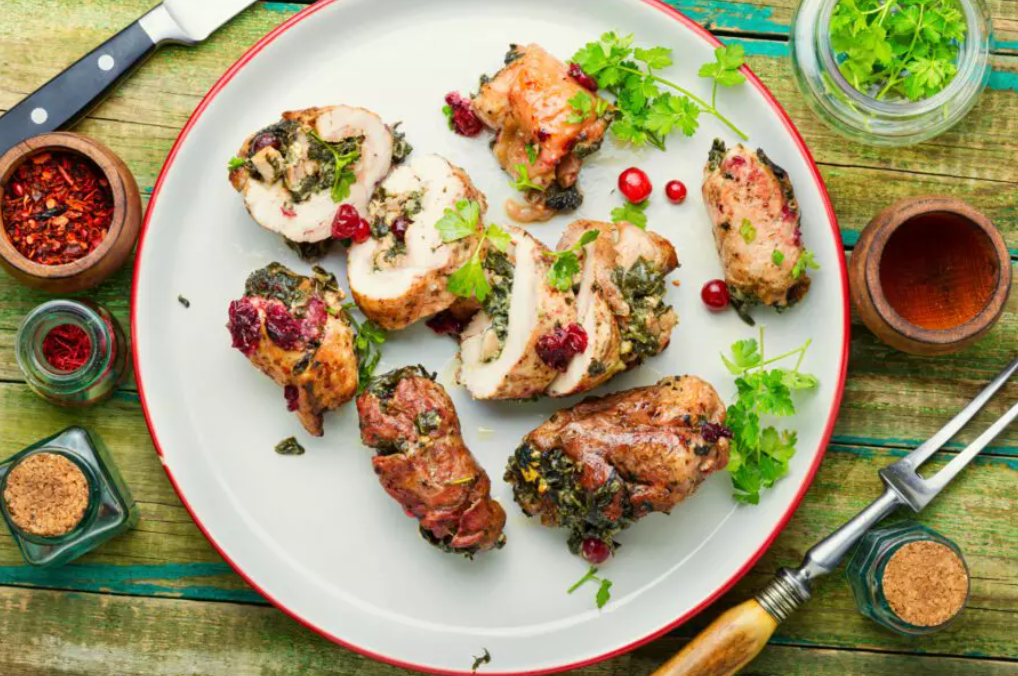 Preparation Time: 45 minutes
Cooking Time: 60 minutes
Servings: 10
Serving Size: 200 grams
These were such a hit at the holiday dinner party that I started serving them instead of the usual whole turkey on Thanksgiving. In each serving, you'll find 553 calories, 42.2 grams of protein, 12.2 grams of fat, and 73.6 grams of carbohydrates.
Ingredients
1 (12 ounces) package of herb-seasoned bread stuffing mix
2 skinless, boneless turkey breasts
1 cup chopped pecans
2 (8 ounces) packages of dried, sweetened cranberries
1 tablespoons olive oil
6 lettuce leaves
½ cup pecan halves
Instructions
1. Preheat the oven to 350 degrees Fahrenheit (175 degrees Celsius).
2. Prepare the stuffing mix as directed on the package and let it cool.
3. Use a sharp knife to butterfly the chicken breasts, making them open flat, and then flatten them further by gently pounding them between two sheets of waxed paper.
4. Spread the prepared stuffing evenly on each breast, leaving about a quarter-inch margin. You can also add dried cranberries and chopped nuts, saving some for garnish.
5. Roll up the chicken breasts tightly, starting from the long end, and tuck in the ends. Secure the rolls by tying them with sections of kitchen twine, about four sections around the center and one along the length of each roll.
6. Heat olive oil in a large cast iron skillet over medium-high heat and brown the rolls carefully on all sides.
7. Place the skillet in the oven, cover, and bake for about an hour in a preheated oven at 350 degrees F (175 degrees C). Check the internal temperature with a meat thermometer, aiming for 170 degrees F (78 degrees C) to prevent them from drying out.
8. Let the rolls rest for 15 minutes before removing the twine and slicing them into 1/2 to 3/4-inch circles. Slice one roll for presentation while leaving the other whole, displaying the spiral pattern of the stuffing. Place them on a bed of curly lettuce and garnish with the reserved dried cranberries and the remaining 1/2 cup of pecan halves.